Tokyo Ai-land Shuttle is a heli-commuter service,
which links together the islands in Tokyo area.We operate daily.
Hachijojima ⇔ Aogashima

20min.

Hachijojima ⇔ Mikurajima

25min.

Mikurajima ⇔ Miyakejima

10min.

Oshima ⇔ Miyakejima

20min.

Oshima ⇔ Toshima

10min.
Online booking
Ai-land Shuttle Online Booking is now available. You will also find flight schedule, seats availability, and fare information. (Japanese Only)

Bookings
04996-2-5222 Business Hours 9:00~16:00(Closed on Sunday)
Booking Information and Inquiries
Toho Air Hachijyojima Office
04996-2-5200 Business Hours 8:30~17:00(daily)
* Reservations can be taken from 1 month to 1 day prior to the boarding date. (except Sunday).
Fleet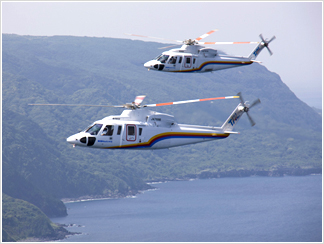 SIKORSKY S76C+(Made in USA)

Registration Symbol

: JA761A

Seating Capacity

: 9 Passengers


(For Tokyo Ai-Land Shuttle)

Going Into Commission

: June 2001
SIKORSKY S76C++(Made in USA)

Registration Symbol

: JA769B

Seating Capacity

: 9 Passengers


(For Tokyo Ai-Land Shuttle)

Going Into Commission

: June 2009